Artist's Statement
Making art exhilarates, absorbs and even mesmerizes me. When I'm working in the studio, the worries of the world and complications of everyday life disappear. I rely on chance and imagination as I keep my mind open to happy accidents. I may randomly apply color or pour paint onto the canvas and use a spatula, brush or gravity to reveal interesting shape and movement. Each painting has its own story to tell as all kinds of images pop up, often with an identifiable form or story. I frequently layer thick paint to add line and depth. The process of painting merges my passion for color, drama, movement and pattern. I am currently interested in the idea of peering through something to view something else, like a curtain. Scraped lines in wet paint reveal a different story beneath.
This website includes images of my ceramic figure sculpture, I switched to paint in 2011. Sculptures available for purchase or exhibit are marked. 
Thank you for viewing my website.
Shaune McCarthy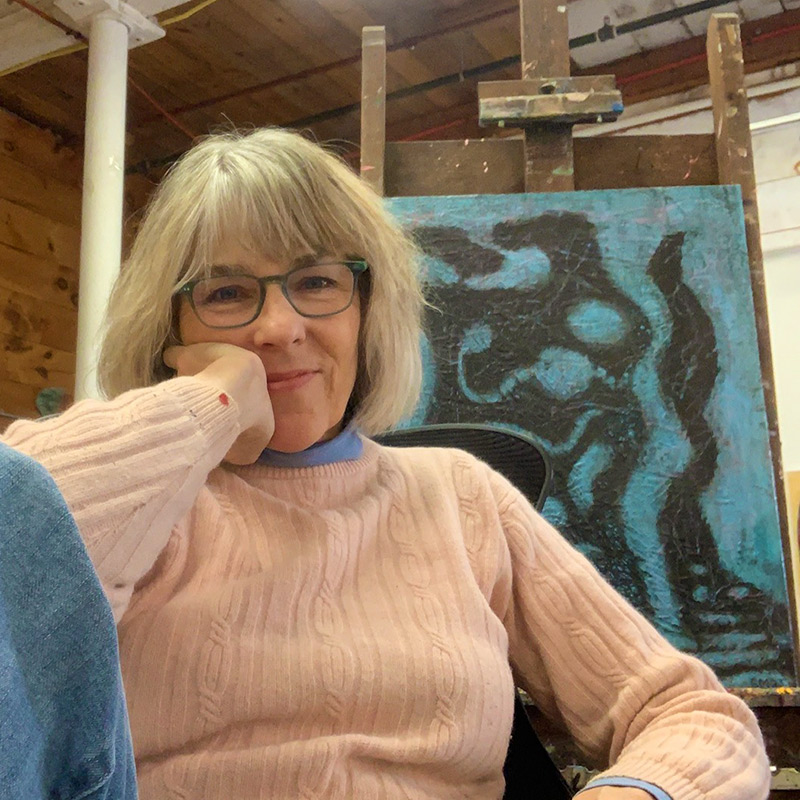 ---
Curriculum Vitae
Group Exhibitions
Barn Gallery, Ogunquit MA, Summer Exhibit
Body Of Work 2018, New Hampshire Art Association, Portsmouth, NH
PAPER PAINT IRON WOOD, 4-Person Show, Buoy Gallery, Kittery, ME
Master Artist Exhibit, Soo Rye Art Gallery, Rye, NH
GESTURE, 5 Sculptures, Essex Art Center, Lawrence, MA
Brush Gallery Members Show, awarded Best In Show Lowell, MA
RSVP, Invited New England Artists, George Marshall Store Gallery, York, ME
Boston International Art Exposition, Boston, MA with Bowersock Gallery
Featured Artist July, Bowersock Gallery, Provincetown, Massachusetts
Juried Regional Show, Essex Art Center, Lawrence, MA, Gallery Talk
Solo Exhibitions
5 Shade Holders and Other Works of Art, Main Street Art, Newfields, New Hampshire
Lecture: Process and Inspiration
Aliens & Pyramids, Black Bean Café, Rollinsford, New Hampshire
When We Were Green, Franklin Gallery, Rochester, New Hampshire
Body Language, Vessels Gallery, Boston, Massachusetts, Lecture and Slide Show
Five Figures, Harbor Square Gallery, Rockland, Maine
Recent Work, Truro Fine Art Studio, Truro, Massachusetts
People I Know, Ampers& Studio, Newmarket, New Hampshire
Selected Education/Residency
Vermont Studio Center, Johnson, Vermont, Slide Show & Lecture
Mixed Media With Laurel Sparks, Massachusetts College of Art
Haystack Mountain School of Craft, Ceramic Sculpture With Syd Carpenter
Printmaking With Susan Rostow, Massachusetts College of Art, Bennington, Vermont
Ceramic Sculpture With Tacha Vosburgh, Portland Pottery, Portland, Maine
University Of New Hampshire, Durham, New Hampshire, BS
Ohio University, Athens, Ohio, BFA, Honors, Sculpture Emphasis
Professional Affiliations
Barn Gallery, Ogunquit, Maine
New Hampshire Art Association, Portsmouth, New Hampshire
Cambridge Art Association, Cambridge, Massachusetts